Hey guys! Watch me grow half a decade younger as I fangirl over Frozen. Hope you enjoy the gifs 😛
I actually wasn't that big a fan of the first movie. Yes, it was enjoyable to watch, but I wasn't obsessed with it or jumped on the whole Frozen franchise. So I didn't really feel that hyped about Frozen II, but then I said why not, and two minutes within the movie, I was like "yup, I'm hooked."
First of all, Olaf is still so lovable and so so hilarious as he goes into philosophical schpiels of the fleeting nature of life or the meaning of growing up. It's funny how knowledgeable and naive he is at the same time. Really brings in the comedic relief.
I love him omg.
Kristoff is still goofy, if not goofier. Poor Kristoff, why is love so hard :') But honestly, he's probably the healthiest Disney example of a romantic lead.
And the songs are so niceee.
AND THE ART! The world was definitely more fleshed out in this movie (lol I sound like I'm reviewing a book). But the art in this one is beautiful and so detailed.
Ella and Anna make such a perfect duo. They balance each other so well. Elsa is so mature and badass with her powers, but Anna's selflessness for her sister is undeniable.
It feels like Anna and Elsa grew up with our generation. I mean Anna wearing heels? Having a realistic and goofy boyfriend? They've grown so much. We've grown so much. :')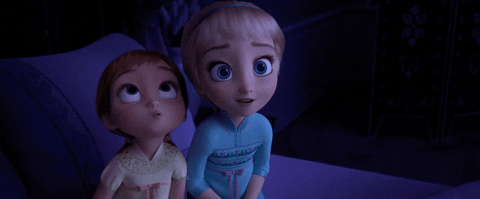 I am in LOVE with Elsa's outfit. But for real though, ELSA IS SO PRETTY.
Is it weird that I've only come to realize Disney films are appealing to all ages? Because it seems like I have not grown out of it.
But I loved the movie's decision more.
But also, why can't Disney ship Jelsa the way we do?
But ultimately, I think what made this movie so distinct was that the movie didn't center itself around love or romance. The storyline that focuses on empowering the women inthe film is what makes it such a unique Disney film, along with its relateable and down-to-earth characters.
Have you guys watched it already? Thoughts?