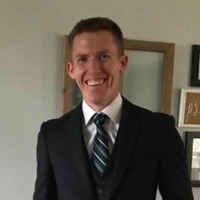 Hey guys!
I'm really excited to share with you guys my interview with Peter Martuneac, who recently released his first book, His Name Was Zach. It's a suspenseful post-apocalypse story, so if you're interested, you should definitely check it out!
Tell us a little bit about yourself.
Well, my name is Peter. I'm a husband and a father of two. I was a United States Marine for 4 years and then I attended Purdue University, where I received my Bachelor's Degree in Political Science and Philosophy. I'm also fairly well travelled, having lived in or visited 9 countries (not counting the US).
When did you know you wanted to become a writer?
I think I was twelve years old, and I'd finished reading Tolkien's "The Lord of the Rings" for the third or fourth time. I was absolutely enthralled by his story, and I decided that I wanted to be able to tell a story like that too!
Aside from writing, what are your other interests?
There's reading, to no surprise. I enjoy a bit of gardening as well, petunias are my favorite flower! I also really like getting tattoos, I have six already, but unfortunately those are a bit too expensive for me to indulge in at the moment, now that I'm a family man.
Describe your new book, His Name Was Zach, in one sentence.
Oof, one sentence, huh? I think the best way to do that is by kinda summarizing the major theme, so here goes: Who you used to be, what you've done and what's been done to you, does not have to be who you are now.
What inspired you to write His Name Was Zach?
Well, as I said above I'd always wanted to write a story. I started writing several stories over the years, but most ended up abandoned for one reason or another. One got farther than other, and that was a post-apocalypse themed story. I liked the protagonist, but the story was lame. A couple years later, I took that character and dropped him in a new story, but this time rather than being a lone wanderer I gave him a companion: his teenage daughter, Abby. And this family element, the father/daughter bond, is what gave life to the story. Fun fact: I actually began with the very last line of the book, and then wrote from the beginning to get to that last line.
Your book takes place in a post-apocalyptic future and focuses on the bond between a father and a daughter. Do you see parts of yourself reflected in parts of the novel?
Actually, yes! On the one hand, the main character Zach is based heavily on myself (you write what you know, as they say, and who do I know better than myself?). On the other hand, I forged this father/daughter bond long before I ever had my own daughter, and by sheer coincidence she will be Abby's age when I am Zach's age! Funny how life works sometimes.
Are you currently working on another book?
Yes! I am working on the sequel to His Name Was Zach, and in fact I'm almost finished with the first draft. The sequel will have a much larger scope than the first one, and we'll finally start to explore what caused The Crisis and how the world as a whole has reacted. It's been very exciting so far, and I can't hardly wait to finish it and let everyone read it.
Three interesting things about yourself?
I lived in South Africa for four years as a child
I deployed to Afghanistan twice while an infantryman with the US Marine Corps
I can recite almost word-for-word the movie 'The Emperor's New Groove'
Favourite book?
Hands down, it would be "The Lord of the Rings". It's truly the gold standard of fantasy fiction and storytelling in general. The world would be a darker place had Tolkien not survived The Great War and wrote his books.
What are your tips for aspiring writers?
Don't give up! Like I said above, I started and abandoned several attempts at a story, even one in which I had invested YEARS of time. Keep writing, and don't compare yourself to others. Luck is a huge part of success in any industry, especially book writing, and not being as successful as others does not mean you are not as good as them.
Well, that concludes the end of the interview. I really enjoyed reading Peter's answers, and I hope you guys did too!
His Name Was Zach by Peter Martuneac
One day at a time, that is how Zach lives. It has been two years since The Crisis, the day when people contracted a mysterious disease that renders the host a flesh-eating feral. Both Zach and his daughter Abby are doing all they can to survive in this world where most creatures, living or undead, want to kill them. Moving from one oasis of solace to another, they journey in search of a true home. A place where they can finally live together in peace. Along the way they will meet loyal friends, monstrous enemies, and confront their own personal demons. But through it all, they always have each other. So long as they have that bond, they feel ready to take on the world.
Find out more at hisnamewaszach.wordpress.com