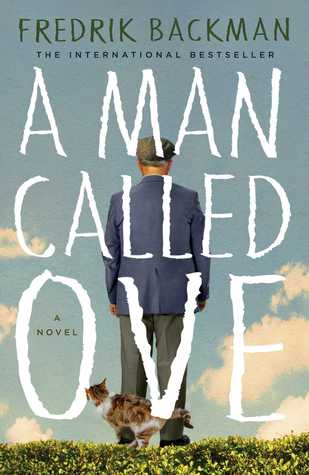 Title: A Man Called Ove
Author: Fredrik Backman
Genre: Fiction, Contemporary
Publisher: Atria Books
Date published: July 15th 2014
Format: Paperback
Page Count: 337
Rating: 5/5
A grumpy yet loveable man finds his solitary world turned on its head when a boisterous young family moves in next door.
Meet Ove. He's a curmudgeon, the kind of man who points at people he dislikes as if they were burglars caught outside his bedroom window. He has staunch principles, strict routines, and a short fuse. People call him the bitter neighbor from hell, but must Ove be bitter just because he doesn't walk around with a smile plastered to his face all the time?
Behind the cranky exterior there is a story and a sadness. So when one November morning a chatty young couple with two chatty young daughters move in next door and accidentally flatten Ove's mailbox, it is the lead-in to a comical and heartwarming tale of unkempt cats, unexpected friendship, and the ancient art of backing up a U-Haul. All of which will change one cranky old man and a local residents' association to their very foundations.
Ove is trying to end his life. Except, it never goes as planned. Whether it's a neighborhood cat, or a new neighbor backing their van into his mailbox, fate won't let him go just yet. Rather, it seems like it's doing just the opposite – trying to make him stay.
The story centers around this cranky 59 year old man as his life takes on an unexpected turn of events as a new family moves in next door.
From the very beginning, Ove is revealed to be bitter and antisocial, and utterly incomprehensible. It only seems normal to want to hate the our protagonist. Yet the way that Backman introduces Ove makes us curious and hang on to the story. Why is he like this? What made him become this? Before you realize it, you become invested into the story and this unusual old man.
Eventually, we realize that underneath his cantankerous manner, Ove is a soft-hearted man, who shows love in the most unconventional ways. He is such a complicated character, whose actions have layered meanings, and it's amazing how Backman is able to put him on paper. 
It's the little details that are added that complete the story. For a character as layered as Ove, the attention to detail is what brings him to life and allows us as readers to really understand what he is feeling and thinking. Small snippets of his past are ingrained throughout, each building on top of the other until it comes full circle. There's that "aha" moment. You can't help but feel it pulling on your heartstrings.
The character development is so satisfying, as you see Ove's once empty house being filled with neighbors, children, and a basket of kittens. Ove finds a daughter in Parvaneh and a family in the town. The book is filled with so many wholesome events, I literally just want to fall into the book and be a part of it.
There's also an amazing variety of side characters who really enhance the novel. Each have their little side story and side plot, some entangling with Ove's. It truly really feels like a neighborhood whenever Ove goes on weekly inspections around town with his cat. Given that there are so many characters that complement the novel, Backman seemingly uses this as an opportunity to add some diversity into his particular little town. There are POC and LGBTQ+ representation; what's nice is that instead of making it a big deal, he blends in these different identities so naturally, that it doesn't feel like he's doing it just for the sake of doing it (if that makes sense).
Parts of the story tugged at my emotions even when I didn't expect them to. As much as this is quite a light-hearted and humorous read, the novel touches on loneliness, the heavy burdens of reality, and delivers many many emotional blows. But more importantly, you watch the bitterness and sorrow of a frayed old man transform into something amazing: love. It's touching and moving. I came into the book expecting a few smiles and laughs, and finished the book crying for an hour.
This is such a gem and truly a wholesome story. It's an emotional investment and it's worth it.
Favorite Quotes
"To love someone is like moving into a house," Sonja used to say. "At first you fall in love in everything new, you wonder every morning that this is one's own, as if they are afraid that someone will suddenly come tumbling through the door and say that there has been a serious mistake and that it simply was not meant to would live so fine. But as the years go by, the facade worn, the wood cracks here and there, and you start to love this house not so much for all the ways it is perfect in that for all the ways it is not. You become familiar with all its nooks and crannies. How to avoid that the key gets stuck in the lock if it is cold outside. Which floorboards have some give when you step on them, and exactly how to open the doors for them not to creak. That's it, all the little secrets that make it your home."
"Death is a strange thing. People live their whole lives as if it does not exist, and yet it's often one of the greatest motivations for living. Some of us, in time, become so conscious of it that we live harder, more obstinately, with more fury. Some need its constant presence to even be aware of its antithesis. Others become so preoccupied with it that they go into the waiting room long before it has announced its arrival. We fear it, yet most of us fear more than anything that it may take someone other than ourselves."
"You're amazingly bad at dying." 🙃
A Man Called Ove by Fredrik Backman – Add a bundle of unkempt cats and sit back as Ove's sharp-tongued phrases wane into the background as a boisterous family literally and figuratively backs up their U-haul into his life, dislodging his sad story and disarming his hard exterior.