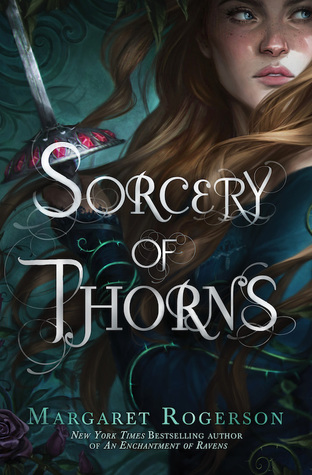 Title: Sorcery of Thorns
Author: Margaret Rogerson
Genre: Young Adult, Fantasy
Publisher: Simon & Schuster
Date published: June 4th 2019
Format: Hardcover
Page Count: 464
Rating: 4/5
All sorcerers are evil. Elisabeth has known that as long as she has known anything. Raised as a foundling in one of Austermeer's Great Libraries, Elisabeth has grown up among the tools of sorcery—magical grimoires that whisper on shelves and rattle beneath iron chains. If provoked, they transform into grotesque monsters of ink and leather. She hopes to become a warden, charged with protecting the kingdom from their power.
Then an act of sabotage releases the library's most dangerous grimoire. Elisabeth's desperate intervention implicates her in the crime, and she is torn from her home to face justice in the capital. With no one to turn to but her sworn enemy, the sorcerer Nathaniel Thorn, and his mysterious demonic servant, she finds herself entangled in a centuries-old conspiracy. Not only could the Great Libraries go up in flames, but the world along with them.
As her alliance with Nathaniel grows stronger, Elisabeth starts to question everything she's been taught—about sorcerers, about the libraries she loves, even about herself. For Elisabeth has a power she has never guessed, and a future she could never have imagined.
**Thank you NetGalley and Simon & Schuster for providing me an advanced reader's copy in exchange for an honest review.
https://www.instagram.com/p/ByL2O0VgFG0/?utm_source=ig_web_button_share_sheet
Reasons to check this book out
The story takes place in a Victorian-age society with just the right touch of fantasy. It's chock full of magic, demons, secret plots, extravagant parties, and ancient artifacts. The characters and setting make it perfect for fans of Harry Potter and the Infernal Devices.

The setting of reminded me of the library at Hogwarts, where the books have their own distinct personalities (but amped up) and are "alive" in a sense.

As well, Elisabeth, Nathaniel, and Silas remind me a lot of Tessa, Will, and Jem from The Infernal Devices series (Shadowhunters), and honestly, they make the perfect trio.

All the characters are super likable and well developed, and I like how there's also not a lot of overwhelming elements that some fantasy books tend to have (ie. too many characters, strange names, etc).

The writing itself is flawless, which is to be expected from Margaret Rogerson, and while reading, I could feel myself seamlessly becoming a part of the scenes taking place (a very good thing!)

Also, if that's not enough, the cover art is ABSOLUTELY GORGEOUS!!
Thoughts
This book is a feel-good read, the type of book where you can expect a pleasant ending where everything works out nicely. However, I personally would've liked a bit more unpredictability and bigger, more dramatic plot twists. I guess I just like the kind of book that always keeps you hanging on the edge of your seat, unable to predict what will happen next (think Six of crows, Nevernight, etc). Some events were predictable for me, simply because I've read books that have had similar elements. Although I definitely did enjoy reading the book, a part of me was hoping for that element of surprise and suspense that wasn't quite there, which is why I couldn't give it a full 5 stars.
Tldr: If you're looking for a feel-good story with  romance, likable characters, and a happy ending, this book is for you.
This review was written by my amazing bookish friend, Christina. Thank you so much!!