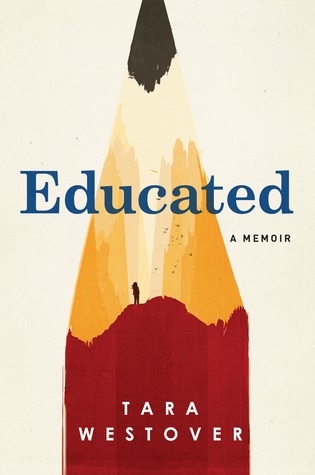 Title: Educated
Author: Tara Westover
Type: Memoir, Autobiography
Genre: Nonfiction
Publisher: Random House
Date published: February 20th 2018
Format: Paperback
Page Count: 352
Rating: 5/5
Tara Westover was 17 the first time she set foot in a classroom. Born to survivalists in the mountains of Idaho, she prepared for the end of the world by stockpiling home-canned peaches and sleeping with her "head-for-the-hills bag". In the summer she stewed herbs for her mother, a midwife and healer, and in the winter she salvaged in her father's junkyard.
Her father forbade hospitals, so Tara never saw a doctor or nurse. Gashes and concussions, even burns from explosions, were all treated at home with herbalism. The family was so isolated from mainstream society that there was no one to ensure the children received an education and no one to intervene when one of Tara's older brothers became violent.
Then, lacking any formal education, Tara began to educate herself. She taught herself enough mathematics and grammar to be admitted to Brigham Young University, where she studied history, learning for the first time about important world events like the Holocaust and the civil rights movement. Her quest for knowledge transformed her, taking her over oceans and across continents, to Harvard and to Cambridge. Only then would she wonder if she'd traveled too far, if there was still a way home.
Educated is an account of the struggle for self-invention. It is a tale of fierce family loyalty and of the grief that comes with severing the closest of ties. With the acute insight that distinguishes all great writers, Westover has crafted a universal coming-of-age story that gets to the heart of what an education is and what it offers: the perspective to see one's life through new eyes and the will to change it.
The story is so vivid and engrossing. I haven't been able to fully absorb myself in a book for a while, but this one truly captured all my attention. Tara recounts snippets of her life from the beginning of when she can remember; it's a life with endless adventure, amazement, as well as pain. I'd imagine myself with her– as she drove away from Buck Peak, sat alone in a classroom at BYU, or climbed the clock tower in Cambridge, and later trudged her luggage into the Harvard yard — on my rides to and from school.
Tara Westover manages to capture all of your attention in writing her memoir. The loneliness when she becomes the black sheep of her family to when she gets ostracized during her years at BYU probes at your heart from different angles. There is also this dissonance as she struggles to figure out her identity and what she should believe in. You see Tara grow and mature in her journey of life, and her narration remains so strong throughout.
What was most shocking while reading the book was learning the dynamic of her family. Her father's survivalist mentality and Mormon beliefs have resulted in them living in the mountains away from civilization. His paranoia with the government and the Illuminati truly impacts the development of his children who are brainwashed by his extremist ideas. Along with that is her older brother Shawn whose violent tendencies turn on Tara. Tara fights with what's right and wrong, what it means to be a family, and the struggle between love and hurt. There were parts that were so difficult to read; it must have been more difficult to write. The theme of love and forgiveness plays out in the latter half of the book, and I truly admired the capacity of her heart.
Her entire journey is so shocking that I often forget that it is an autobiography. She spends many paragraphs reflecting on how each event has changed her and how her family's dynamic has affected her in irreparable ways. In many ways, it's her love letter to her family and Buck Peak, as well as her final closure of saying goodbye to everything she once had — it's her catharsis. It's emotional, raw, and truly tugs at your heartstrings.
I am so so so glad I finally I got to pick up Educated. I agree with everyone else who read this before me — it is an absolute must read.