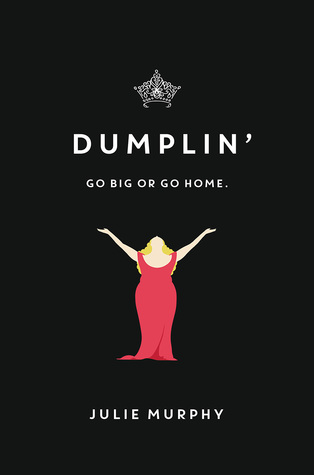 Title: Dumplin'
Author: Julie Murphy
Type: Fiction
Genre: Young Adult
Publisher: Balzer + Bray
Date published: September 15th 2015
Format: Hardcover
Page Count: 384
Rating: 3/5
Self-proclaimed fat girl Willowdean Dickson (dubbed "Dumplin'" by her former beauty queen mom) has always been at home in her own skin. Her thoughts on having the ultimate bikini body? Put a bikini on your body. With her all-American beauty best friend, Ellen, by her side, things have always worked…until Will takes a job at Harpy's, the local fast-food joint. There she meets Private School Bo, a hot former jock. Will isn't surprised to find herself attracted to Bo. But she is surprised when he seems to like her back.
Instead of finding new heights of self-assurance in her relationship with Bo, Will starts to doubt herself. So she sets out to take back her confidence by doing the most horrifying thing she can imagine: entering the Miss Clover City beauty pageant—along with several other unlikely candidates—to show the world that she deserves to be up there as much as any twiggy girl does. Along the way, she'll shock the hell out of Clover City—and maybe herself most of all.
I was a bit brutal on this book. Overall, it was a fun read, but I had several issues with it, mostly it being filled with cliches and predictable plotlines.
Setting
This was my first time reading a book that took place in Texas. I couldn't help but hear a Southern accent while reading the dialogue. This might have been because I watched the trailer for Dumplin' before picking up the book. It was easy imagining Clover City, and the book easily transported me from the cold winter (reading it in December) into the hot summer.
Characters
Many of the characters in the book were your typical stock characters: Willowdean, the insecure yet beloved main character; Bo, the handsome brooding main male; Ellen, the affable and down-to-earth bestie; and many more. The characters were all those that you typically find in chick-flick movies. And because they were created to be stock characters, there wasn't much character development. It was a bit disappointing to not see Willowdean fully break out of her own fears and insecurities.
Plot
For the most part, I liked Willowdean's candidness, but I couldn't handle the cliche plotline of the story. Perhaps the pageant show was definitely a new idea for a subplot, but aside from that, but the rest of the plot was unoriginal. From the get-go, the plot was pretty predictable and the plot twists weren't very surprising. I couldn't help but roll my eyes after each chapter. Sorry, Willowdean, it's not you, it's the story you're in.
Final Thoughts
While I did appreciate the fact that this book was the idea about body size. However, at points, I felt like it was glamorized a lot. Nevertheless, it was an enjoyable light read, and I loved all the Dolly Parton references. I couldn't help but listen to Jolene afterward.
Did you read the book or watch the movie? What were your thoughts?