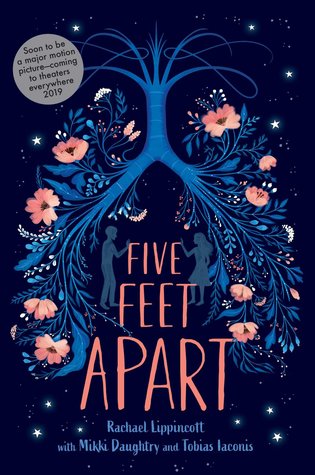 Title: Five Feet Apart
Author: Rachael Lippincott
Type: Young Adult, Contemporary
Genre: Fiction
Publisher: Simon & Schuster
Date published: November 20th 2018
Format: eBook
Page Count: 288
Rating: 3.5/5
**Thank you for Simon and Schuster via Netgalley for sending me an advanced copy to review**
Hey guys! So I recently got my friend, Amy, to offer her perspective and thoughts while reading the book. Hope you enjoy!
After all that CF has stolen from me, I don't mind stealing something back. Three hundred four millimeters, twelve inches, one foot.
Hilarious and heartbreaking, Five Feet Apart offers us a peek into the lives of those with cystic fibrosis through the lens of Stella and Will.
Told in their alternating perspectives, the novel reads like a conversation which mirrors the progression of their relationship from not-so-friendly banter into something more. Like many of its YA counterparts, it contains a lot of the cliches we crave: a gorgeous girl and a handsome boy, difficulties in their personal and family lives they help each other overcome, and an overload of cute sparring.
Some parts of the story were a little too dramatic and unbelievable, but as I'm not usually very nitpicky with the details, I was able to continue enjoying the story. I especially found some of the backstories of the characters to be a little unrealistic and they seemed to make the characters more simple or stereotypical rather than multidimensional.
However, I really liked the way that Barb was portrayed. As the nurse and motherly figure who wants the best for her patients, she is conflicted on whether or not she should protect them or let them follow their hearts. I sometimes found myself connecting to her more than I did the other characters.
Overall, if you have a few hours to spare and you're like me and like the cute and cringe, Five Feet Apart is worth the read, especially if you want something light to just pass the time. Be warned though that you will be brought through a roller coaster of emotions (yes, I did tear up at times), but we are left with a pretty open and hopeful ending. Remember to have some tissues nearby!
Interested in reading the book? You can get in on Simon & Schuster or Amazon.
So, who else is super excited for the movie?? I am!! Here's the trailer if you haven't seen it already.