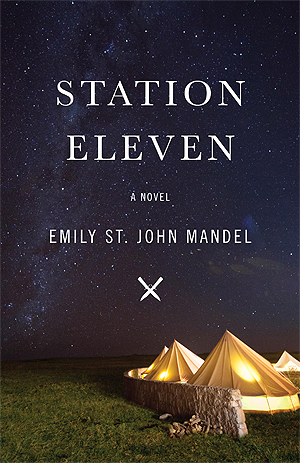 Title: Station Eleven
Author: Emily St. John Mandel
Type: Dystopian, Science Fiction
Genre: Fiction
Publisher: Knopf
Date published: September 9th 2014
Format: Hardcover
Page Count: 336
Rating: 4/5
An audacious, darkly glittering novel set in the eerie days of civilization's collapse, Station Eleven tells the spellbinding story of a Hollywood star, his would-be savior, and a nomadic group of actors roaming the scattered outposts of the Great Lakes region, risking everything for art and humanity.
One snowy night a famous Hollywood actor slumps over and dies onstage during a production of King Lear. Hours later, the world as we know it begins to dissolve. Moving back and forth in time—from the actor's early days as a film star to fifteen years in the future, when a theater troupe known as the Traveling Symphony roams the wasteland of what remains—this suspenseful, elegiac, spellbinding novel charts the strange twists of fate that connect five people: the actor, the man who tried to save him, the actor's first wife, his oldest friend, and a young actress with the Traveling Symphony, caught in the crosshairs of a dangerous self-proclaimed prophet.
Sometimes terrifying, sometimes tender, Station Eleven tells a story about the relationships that sustain us, the ephemeral nature of fame, and the beauty of the world as we know it.
This was a really interesting read. I haven't read much dystopian in the past while, and I found this a really exhilarating read. So here are what I liked and didn't like about the book. Enjoy!
What I liked
I loved how everything in the book was so interconnected. Although it was subtle at first, the plot lines and characters slowly weave together and click. It makes you think about the concept of 6 degrees of freedom, and how small a world earth can be.
I felt like a detective or movie watcher seeing all of this unfold. You're in the fog for the first bit, and it slowly starts clearing away as things start piecing together.
It's from Toronto, my hometown! Aha not being biased or anything
While the idea of a plague annihilating civilization is not uncommon, what the author did with the concept was super unique. We often see the dystopian world (eg Hunger Games, Divergent) long after it is rebuilt and reestablished. Here, we watch the rebuilding happen in its process, still seeing pieces of the world we readers are familiar with.
While it was a book filled with adventure, there was a lot of introspective ideas and thoughts about humanity. It makes you think about human nature and what decisions would be made in times of grief and struggle.
Despite the fact that there were so many plot lines, each of the characters were really interesting and had their different perspectives. I usually find it difficult reading books with more than one plotline, but the author allowed every character to have their own distinct personalities.
What I didn't like
It has an open ending. I realize that it was intentional to have an open ending, though I'd love to know how the characters meet each other in the end to realize how closely connected they all were. It ended with so many loose ends.
It was a bit hard to get into. Honestly going in, I only knew this was about an apocalypse and nothing else. The first few chapters were confusing and a bit dull. I had to push through until 20 percent in before I really started to get into it. I realize it's like this for a few books so maybe it's simply because I'm a bad reader, oops.
Have you read the book? What are your thought?