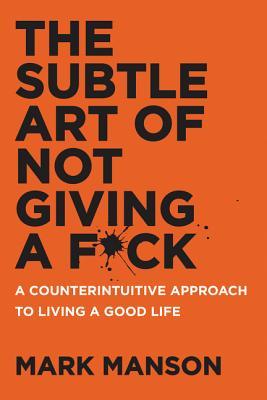 Title: The Subtle Art of Not Giving a F*ck: A Counterintuitive Approach to Living a Good Life
Author: Mark Manson
Type: Nonfiction
Genre: Self-help
Publisher: French Flaps
Date published: September 13th 2016
Format: Digital
Page Count: 224
Rating: 4/5
In this generation-defining self-help guide, a superstar blogger cuts through the crap to show us how to stop trying to be "positive" all the time so that we can truly become better, happier people.
There are only so many things we can give a f**k about so we need to figure out which ones really matter, Manson makes clear. While money is nice, caring about what you do with your life is better, because true wealth is about experience. A much-needed grab-you-by-the-shoulders-and-look-you-in-the-eye moment of real-talk, filled with entertaining stories and profane, ruthless humor, The Subtle Art of Not Giving a F**k is a refreshing slap for a generation to help them lead contented, grounded lives.
This was a really interesting read in that it's not exactly what you expect. Mark Manson takes on a different light on how you should approach life. However, despite what the title says, it's not about, not giving an F about anything, but simply only giving Fs for things that really matter. Throughout the book, Manson talks about ways to find ways to let go of things that are meaningless and harmful to our life and to figure out what truly matters to us.
The book is separated into several sections, wherein each, Manson redefines concept of responsibility, uncertainty, failure, rejection, and death. Although these ideas all come with a negative connotation, the ability to recognize them and accept them will ultimately help readers face conflicts in life in a different light. The book gets preachy at times, and he does repeat ideas a lot, but it's not so bad that it detracts from the book.
What is unique about this book is that rather than backing information up with stats and the like, Manson speaks based off stories of others and his own. And the many unconventional insights that he offers are quite rational, like a person who tries not to care about anything actually cares too much about everything. He also highlights some ideas that are mentioned but not stressed enough. For example, he talked about how the desire to be happy is a negative experience and sometimes accepting sadness can make you happier. This is something that we all understand but aren't reminded of enough.
The Subtle Art of Not Giving a F*ck is an interesting read, and although it's nonfiction, Mark's humour and bizarre stories make it an easy read that does more than simply teach us how to live our lives.
I definitely found myself trying to apply it to my own life. Especially with my insecurities at an all-time high in senior year of high school, I'm figuring out ways to tone down my angst and worries. And truth to be told, it is kind of helpful. The book reminds me to put things into perspective and to understand where I should give an F.
Of course, warning for a lot of swear words. The hardest part will be getting past the introduction. The swear words get more sparse in the rest of the book.
So, writing this review without including one swear word at all? Sorry, but I'll have to include one:
"Like the road not taken, it was the fucks not given that made all the difference." – Mark Manson
Thoughts, questions, ideas? Leave them down in the comments below! I'd love to know how you found the book.