This meme was started by Lia @ Lost in a Story so don't forget to check her blog out!
How it works:
Go to your Goodreads to-read shelf.
Order on ascending date added.
Take the first 5 (or 10 if you're feeling adventurous) books
Read the synopses of the books
Decide: keep it or let it go?
The Secret Life of Bees by Sue Monk Kidd
Set in South Carolina in 1964, The Secret Life of Bees tells the story of Lily Owens, whose life has been shaped around the blurred memory of the afternoon her mother was killed. When Lily's fierce-hearted black "stand-in mother," Rosaleen, insults three of the deepest racists in town, Lily decides to spring them both free. They escape to Tiburon, South Carolina–a town that holds the secret to her mother's past. Taken in by an eccentric trio of black beekeeping sisters, Lily is introduced to their mesmerizing world of bees and honey, and the Black Madonna. This is a remarkable novel about divine female power, a story women will share and pass on to their daughters for years to come.
I'm afraid this book isn't down my alley. Although it seems like a really great book, I don't think I'll be picking it up. Let it Go
Speak by Laurie Halse Anderson
"Speak up for yourself–we want to know what you have to say." From the first moment of her freshman year at Merryweather High, Melinda knows this is a big fat lie, part of the nonsense of high school. She is friendless, outcast, because she busted an end-of-summer party by calling the cops, so now nobody will talk to her, let alone listen to her. As time passes, she becomes increasingly isolated and practically stops talking altogether. Only her art class offers any solace, and it is through her work on an art project that she is finally able to face what really happened at that terrible party: she was raped by an upperclassman, a guy who still attends Merryweather and is still a threat to her. Her healing process has just begun when she has another violent encounter with him. But this time Melinda fights back, refuses to be silent, and thereby achieves a measure of vindication.
In Laurie Halse Anderson's powerful novel, an utterly believable heroine with a bitterly ironic voice delivers a blow to the hypocritical world of high school. She speaks for many a disenfranchised teenager while demonstrating the importance of speaking up for oneself.
I've never been able to get myself to pick up this book. I was really on the fence of letting it go but all my friends loved it. Call me indecisive, but I decided to keep it. I'll get to it one day. TBR doesn't mean TBRSoon right?
Rose Blood by AG Howard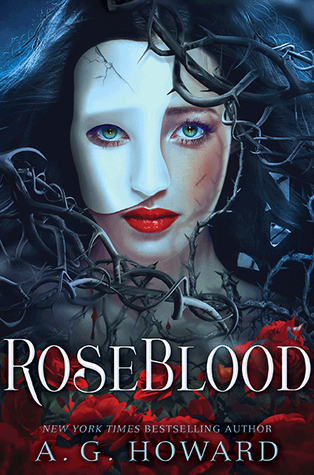 In this modern day spin on Leroux's gothic tale of unrequited love turned to madness, seventeen-year-old Rune Germain has a mysterious affliction linked to her operatic talent, and a horrifying mistake she's trying to hide. Hoping creative direction will help her, Rune's mother sends her to a French arts conservatory for her senior year, located in an opera house rumored to have ties to The Phantom of the Opera.
At RoseBlood, Rune secretly befriends the masked Thorn—an elusive violinist who not only guides her musical transformation through dreams that seem more real than reality itself, but somehow knows who she is behind her own masks. As the two discover an otherworldly connection and a soul-deep romance blossoms, Thorn's dark agenda comes to light and he's forced to make a deadly choice: lead Rune to her destruction, or face the wrath of the phantom who has haunted the opera house for a century, and is the only father he's ever known.
I'm a sucker for retellings. That's why a quarter of my TBR has retellings. But the thing is I haven't read the Phantom of the Opera, and I don't plan on it anytime soon. So I'm letting it go.
Because You Love to Hate Me
In this unique YA anthology, thirteen acclaimed, bestselling authors team up with thirteen influential BookTubers to reimagine fairy tales from the oft-misunderstood villains' points of view.
These fractured, unconventional spins on classics like "Medusa," Sherlock Holmes, and "Jack and the Beanstalk" provide a behind-the-curtain look at villains' acts of vengeance, defiance, and rage–and the pain, heartbreak, and sorrow that spurned them on. No fairy tale will ever seem quite the same again!
I think it's pretty obvious that I'm a sucker for retellings. But honestly, I'm probably not going to read it unless someone puts it into my hand. I really don't want to drop it, but I have to be brutally honest with myself if I actually want to clean out my TBR right? Let it Goooo.
The Snow Queen by Hans Christian Andersen
When Kay is cursed by a magic mirror, he can no longer perceive goodness in anything – not his best friend Gerda, nor the roses in the garden. One wintry evening, he is kidnapped by the wicked Snow Queen and swept away to live for ever in her kingdom of ice. Friendless and shoe-less, Gerda must travel through inhospitable lands, with only crows to guide her and bandits for company, in order to find her beloved friend. And when she gets there, how will she melt the ice in his heart? Nearly two centuries after its first publication, The Snow Queen endures as a tale of love and loss, good and evil, and loyalty in the face of great hardships.
Haha… Yea 3 out of 5 of the books are either fairytales or retellings. I don't think I need to repeat myself. But I think I'm gonna let it go.
Total number of books removed: 7
Total number of books moved to TBR: 8
Ok I went pretty brutal on TBR #3, because I was way too nice for the previous one. But honestly, it's kind of nice letting things go. I have to confess that I'm an obnoxious hoarder, and I hate getting rid of things, but this is a really relieving experience. Maybe I can make this a habit for other things in my life (ahem, looking at my cluttered desk)
Let me know what you thought of my choices, did I make any mistakes? What would you keep?
Happy reading!