This meme was started by Lia @ Lost in a Story so don't forget to check her blog out!
How it works:
Go to your Goodreads to-read shelf.
Order on ascending date added.
Take the first 5 (or 10 if you're feeling adventurous) books
Read the synopses of the books
Decide: keep it or let it go?
Before I Met You by Lisa Jewell
After her grandmother Arlette's death, Betty is finally ready to begin her life. She had forfeited university, parties, boyfriends, summer jobs – all the usual preoccupations of a woman her age – in order to care for Arlette in their dilapidated, albeit charming home on the English island of Guernsey. Her will included a beneficiary unknown to Betty and her family, a woman named Clara Pickle who presumably could be found at a London address. Now, having landed on a rather shabby street corner in '90s Soho, Betty is determined to find the mysterious Clara. She's ready for whatever life has to throw her way. Or so she thinks . . .
In 1920s bohemian London, Arlette De La Mare is starting her new life in a time of postwar change. Beautiful and charismatic, she is soon drawn into the hedonistic world of the Bright Young People. But two years after her arrival in London, tragedy strikes and she flees back to her childhood home and remains there for the rest of her life.
As Betty navigates the ups and downs of city life and begins working as a nanny for a rock star tabloid magnet, her search for Clara leads her to a man – a stranger to Betty, but someone who meant the world to her grandmother. Will the secrets of Arlette's past help Betty find her own way to happiness in the present?
Judgement: I got this book a long time ago, but now I'm kind of glad I did. The idea of uniting two storylines 70 years apart may be overplayed, but this sounds pretty interesting. Keep it.
The Edible Woman by Margaret Atwood
Marian is determined to be ordinary. She lays her head gently on the shoulder of her serious fiancé and quietly awaits marriage. But she didn't count on an inner rebellion that would rock her stable routine, and her digestion. Marriage a la mode, Marian discovers, is something she literally can't stomach… The Edible Woman is a funny, engaging novel about emotional cannibalism, men and women, and the desire to be consumed.
Judgement: Margaret Atwood? Absurd concept? Is this a question? Keep it.
Another Day by David Levithan
Every day is the same for Rhiannon. She has accepted her life, convinced herself that she deserves her distant, temperamental boyfriend, Justin, even established guidelines by which to live: Don't be too needy. Avoid upsetting him. Never get your hopes up.
Until the morning everything changes. Justin seems to see her, to want to be with her for the first time, and they share a perfect day—a perfect day Justin doesn't remember the next morning. Confused, depressed, and desperate for another day as great as that one, Rhiannon starts questioning everything. Then, one day, a stranger tells her that the Justin she spent that day with, the one who made her feel like a real person…wasn't Justin at all.
Judgement: I really really liked Everyday. And Rhiannon is a loveable character. So I'm gonna give it a go. Keep it.
Confessions of an Ugly Stepsister by Gregory Maguire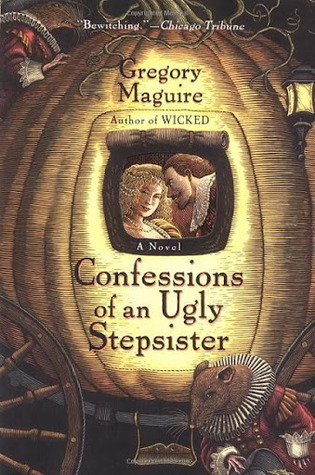 We have all heard the story of Cinderella, the beautiful child cast out to slave among the ashes. But what of her stepsisters, the homely pair exiled into ignominy by the fame of their lovely sibling? What fate befell those untouched by beauty … and what curses accompanied Cinderella's looks?
Set against the backdrop of seventeenth-century Holland, Confessions of an Ugly Stepsister tells the story of Iris, an unlikely heroine who finds herself swept from the lowly streets of Haarlem to a strange world of wealth, artifice, and ambition. Iris's path quickly becomes intertwined with that of Clara, the mysterious and unnaturally beautiful girl destined to become her sister. While Clara retreats to the cinders of the family hearth, Iris seeks out the shadowy secrets of her new household — and the treacherous truth of her former life.
Judgement: As much as I like retellings, I've cannot read Maguire's books. I've tried to read Wicked after loving the musical, but I gave up pushing through halfway through. I'm afraid it'll be the same for this book. Let it go.
Extremely Loud and Incredibly Close by Jonathan Safran Foer
Nine-year-old Oskar Schell is an inventor, amateur entomologist, Francophile, letter writer, pacifist, natural historian, percussionist, romantic, Great Explorer, jeweller, detective, vegan, and collector of butterflies. When his father is killed in the September 11th attacks on the World Trade Centre, Oskar sets out to solve the mystery of a key he discovers in his father's closet. It is a search which leads him into the lives of strangers, through the five boroughs of New York, into history, to the bombings of Dresden and Hiroshima, and on an inward journey which brings him ever closer to some kind of peace.
Judgement: This has a lot of positive reviews from my friends, and I like what my friends read. Also, just from reading the blurb, I'm beginning to like Oskar already. The historical aspect of it is a plus. Keep it.
Yikes, I think I'm too clingy.
Total number of books removed: 3
Total number of books moved to TBR: 7
Let me know what you thought of my choices, did I make any mistakes? What would you keep?
Happy reading!