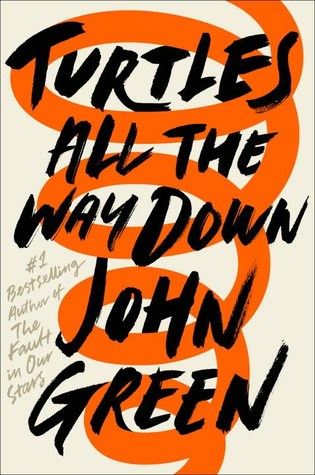 Title: Turtles All the Way Down
Author: John Green
Type: Fiction
Genre: Young Adult, Contemporary
Publisher: Dutton Books
Date published: October 10th 2017
Format: Hardcover
Page Count: 288
Rating: 3.5/5
Sixteen-year-old Aza never intended to pursue the mystery of fugitive billionaire Russell Pickett, but there's a hundred-thousand-dollar reward at stake and her Best and Most Fearless Friend, Daisy, is eager to investigate. So together, they navigate the short distance and broad divides that separate them from Russell Pickett's son, Davis.
Aza is trying. She is trying to be a good daughter, a good friend, a good student, and maybe even a good detective, while also living within the ever-tightening spiral of her own thoughts.
Turtles All the Way Down was a quick and enjoyable read. Here is a rundown of the things I liked and didn't like:
What I liked
John Green succeeds again at putting readers into the minds of his protagonist. Aza's thoughts and actions are so well portrayed, that you can almost imagine her in front of you.
This is my first time reading a book about Obsessive Compulsive Disorder, and it really gave me more perspective on what it means to suffer from OCD. I found that I was able to sympathize with Aza on her journey.
I loved how the title was something that you'd get once you start reading the novel. I remembered looking at the title and being like "huh?" and then as I was reading it, I was like "ohh, that's what the spirals are for."
The ending was quite original. In most stories that centre around mental illness, it's about the characters learning to overcome their condition or having to deal with its consequences. But here, Aza learns to accept how the way she thinks makes her different, and she's not going to change, and that's ok. It's a bittersweet ending, but I found it really truthful and realistic. The way Aza resolves everything in the end is truly appreciative.
What I Didn't Like
Things sometimes got a bit repetitive. Yes, I understand what thought spirals are, yes I know Aza suffers through them constantly. But I felt like so much of the book was focused her fear of C. Diff, that it detracted from the overall story.
The relationship between Aza and Davis was … meh. It felt really artificial and forced together. It was nice watching them be together, but I didn't feel invested in their ship.
For the most part, the writing was concise. But there were times when the book would spend half a page talking about microbiomes or galaxies and lightyears, and I'd just be there yawning. As a result, there were times when the pacing would just slow down.
Favourite Quotes
"I kept thinking about how the sky is a singular noun, as if it's one thing. But the sky isn't one thing. The sky is everything. And last night, it was enough."
"Blown from the dark hill hither to my door/ Three flakes, then four/ Arrive, then many more."
"Correct. You're a solid B-Plus. If you can build a B-Plus city with C-minus geography, that's pretty great."
"Sir, you don't understand. It's turtles all the way down."
Final Thoughts
To sum up, I'm glad that I picked up Turtles All the Way Down. While I can't say that it's one of my favourite John Green novels, I definitely did learn a thing or two and that totally made it worth it. It's always a good read when it opens your eyes to new things 🙂
What are your thoughts on the book? What did you like or didn't like? Comment down below, and I'd love to discuss!!