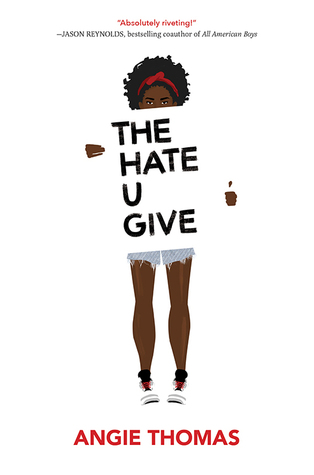 Title: The Hate U Give
Author: Angie Thomas
Type: Fiction
Genre: Young Adult, Contemporary
Publisher: Balzer + Bray
Date published: February 28th 2017
Format: Hardcover
Page Count: 453
Rating: 5/5
Sixteen-year-old Starr Carter moves between two worlds: the poor neighbourhood where she lives and the fancy suburban prep school she attends. The uneasy balance between these worlds is shattered when Starr witnesses the fatal shooting of her childhood best friend Khalil at the hands of a police officer. Khalil was unarmed.
Soon afterwards, his death is a national headline. Some are calling him a thug, maybe even a drug dealer and a gangbanger. Protesters are taking to the streets in Khalil's name. Some cops and the local drug lord try to intimidate Starr and her family. What everyone wants to know is: what really went down that night? And the only person alive who can answer that is Starr.
But what Starr does or does not say could upend her community. It could also endanger her life.
Yes, I know, it's about time I picked up this book, and I was so glad that I did! I felt like I learned so much about issues that are becoming more and more relevant in our lives today. As well, I loved Starr's personality and spunk. There were many times where Starr would make a witty comment and I would burst out laughing.
While this novel talks about police brutality, it also focuses on many other interesting topics that made it such an enjoyable read:
Identity
One of the major conflicts in this book focuses on Starr's struggles with coming in terms with herself. While she lives in the "hooded" Garden Heights, she also attends the prestigious Williamson. Because the two different environments, Starr ends up developing two identities, that she tries so hard to keep separated. As events lead to both her world's colliding together, Starr must find a balance between the two, and accept herself for who she is.
Family
Starr's family is amazing. Her big brother, Seven, gets along with her so well, and her parents are amazing. Her dad Maverick is like the protective dad with a little edge and her mother Lisa is so outgoing and caring for her family. Not to mention the always reliable uncle Carlos. The family dynamic is more complicated than you'd expect, but the way that Starr's family loves each other and supports each other is truly something to be appreciated.
Amazing Ships
Starr and Chris are in an interracial relationship, and this gives way for Angie Thomas to focus in on the role of race in a relationship. Despite their chemistry, Chris and Starr experiences many ups and downs and find some people not so open to their relationship
Nevertheless, I just love these two. Chris is perfect for Starr and it's nice seeing how Starr can be comfortable with him. He lets Starr be herself, not the Williamson Starr, nor the Garden Heights Starr, but just Starr Carter.
Starr's Background
Angie Thomas introduces Starr's neighbourhood without holding back. She shows us all the good and the bad. And the bad is quite shocking. I never realized how awful the conditions were in a neighbourhood like Starr's, but now I knew. It was shocking learning about the night shootings and even more terrifying when I learned how this was the norm for Starr and her family. There are a lot of serious issues that are mentioned, like gun violence, drug abuse, and domestic violence. It was a bit overwhelming to read about it, but it was necessary to fully portray the conditions of Garden Heights.
However, despite all the violence that took place in the neighbourhood, the neighbourhood is very supportive of each other, always willing to help during times of needs. It was interesting seeing the town's dynamic, how there was hate, but also love in the town.
Culture
Did you know how much fun I had searching up dance moves like the angel shuffle or the wobble? I wished I can dance :') Anyways, I loved how Angie Thomas laced her novel with so many cultural references. In one of her interviews, Thomas has mentioned how "people loving black culture is different from loving black people," but I think her novel has encouraged readers to love both.
Conclusion
The Hate U Give is an amazing story that really opens your eyes to the discrimination of African Americans. Books like these are necessary as it is relevant to the current issues happening in our world today. Starr's story is one of many victims of police brutality and discrimination, and her story encourages us to think for ourselves and to not be afraid to speak up.
I've recently watched the new trailer with Amandla Stenberg and I'm so excited 🙂 What do you think of the trailer? Will you go watch the movie? Do you think it'll match the hype?