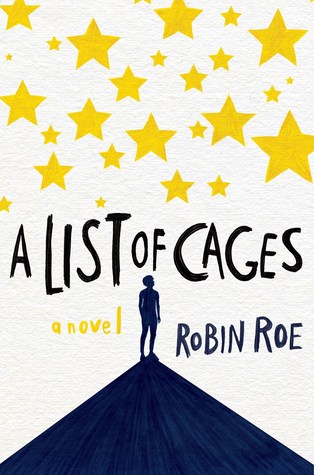 Title: A List of Cages
Author: Robin Roe
Type: Fiction
Genre: Young Adult
Publisher: Disney-Hyperion
Date published: January 10, 2017
Format: Hardcover
Page Count: 320
Rating: 3.5/5
When Adam Blake lands the best elective ever in his senior year, serving as an aide to the school psychologist, he thinks he's got it made. Sure, it means a lot of sitting around, which isn't easy for a guy with ADHD, but he can't complain, since he gets to spend the period texting all his friends. Then the doctor asks him to track down the troubled freshman who keeps dodging her, and Adam discovers that the boy is Julian—the foster brother he hasn't seen in five years.
Adam is ecstatic to be reunited. At first, Julian seems like the boy he once knew. He's still kindhearted. He still writes stories and loves picture books meant for little kids. But as they spend more time together, Adam realizes that Julian is keeping secrets, like where he hides during the middle of the day, and what's really going on inside his house. Adam is determined to help him, but his involvement could cost both boys their lives…
The story begins with Julian starting his first year as a freshman in high school. Already struggling in school, he has more problems at home to deal with as well. But when he meets Adam, his past foster brother, Julian's life begins to change.
The story is told in the two perspectives of Adam and Julian, whose personalities are both admirable. Adam's energy and carefreeness really is evident throughout the book, and the vibes literally radiate through the pages. Julian really captures the picture of a neglected and misunderstood child. As the story progressed, however, you were able to see the sweet and caring side of Julian, whose awkwardness is more than adorable. As the story progressed, I got so much more attached to the boys, and their struggles became more and more real. Omergod, there times when I had to put the book down, because I felt a surge of tears stinging from the back of my eye and I was like, "No Jennifer, you cannot cry now."
The book was definitely worth reading just for the characters.
However, I did have some issues with the pacing of the story. The first half of the book felt really slow, and as I go to the second half, the plot just bulleted through. I definitely found it to be a slow read at the beginning. As well, there were some elements of the book that just didn't seem quite believable. Seeing that they were still high school students, some of the actions that Adam and Julian take wouldn't have been possible.
Aside from that, I really enjoyed the book. The family element was really what drew me to the story. I found it heartwarming how despite so many years away from each other, Adam still takes the effort to make Julian like his little brother again and to help Julian, despite the risks and pains it would create for them both.
The story was all in all very sweet, and I would recommend it to those who would enjoy a happily ever after with a strong emphasis on family. 🙂